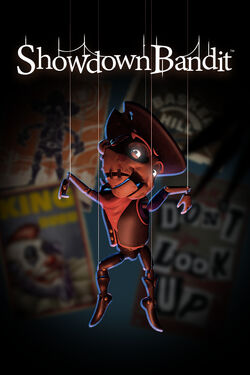 This article refers to the game. For the titular character, see Showdown Bandit.
Showdown Bandit is a top-down, stealth, action horror game developed by Kindly Beast. Episode 1 was released on September 17, 2019, originally August 29th, 2019.
Summary
Beware! For years kids tuned in to watch the televised puppet world of Showdown Bandit, whose colorful cast performed in front of a live audience of ecstatic children. Then without warning the show was unceremoniously canceled and the studio, props and puppets were left to rot. Yet somehow the show lives again and you're in the spotlight. Take control of the Bandit himself and explore the dilapidated sets of what was once glorious Showdown Valley in this top-down, stealth-action-horror game from the makers of Bendy.
Try not to lose your wits or your strings as you sneak through the shadowy sets past a menagerie of eerie enemies and helpful inhabitants. Fight ONLY when you must! Don't be afraid to explore the creepiest, darkest corners as even the smallest clues could help you answer the biggest question of all ... who is really pulling the strings?
Update Patches
September 18, 2019
Numerous bug fixes.
Subtitles added.
Possible secrets added.
Gallery
Videos